Maggy, an affordable device to support social distancing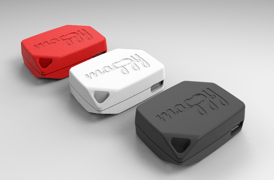 ©Maggy
A number of Belgian entrepreneurs, including Ruben Miessen, AMS Alumnus Master of Innovation & Entrepreneurship (MIE), have joined forces to use technology to provide an answer to the question of how we will be able to get back to work safely in the future. In less than a week, they succeeded in developing an affordable device with Maggy to support social distancing.
Maggy fits in your pocket, or you can wear it on a lanyard. It vibrates and beeps when people are too close together. In the first instance Maggy aims at the professional user. In the future, private individuals will also be able to use Maggy.
Co-founders Allan Segebarth and Ruben Miessen could count on the support of Gumption, a group of companies that supports start-ups financially, strategically and operationally.
The name Maggy refers to the Belgian Minister of Health Maggie De Block. "Her statement 'Blijf in uw kot' or 'Stay in your crib' is etched in the collective memory", says Bart Embrechts from Gumption. "Our Maggy is just helping people get out of their houses again. The name also refers to the magnets in the logo. People are attracted to each other, and Maggy guarantees that we can see each other safely again as soon as possible."
#AMSgivingback